The 2021 Subaru Love Promise Customer and Community Commitment Award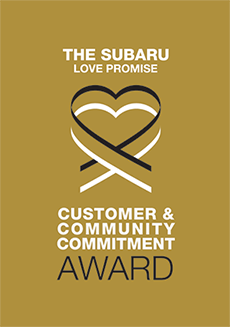 We've been nationally recognized for our dedication to our customers, our community, and the Subaru Love Promise.
We're honored to receive the 2021 Subaru Love Promise Customer and Community Commitment Award. This award nationally recognizes elite Subaru retailers who provide an exceptional customer experience at every interaction with Subaru. These retailers have also demonstrated an outstanding commitment to supporting passions and causes in their local communities in important areas such as the environment, community, health, education, and pets.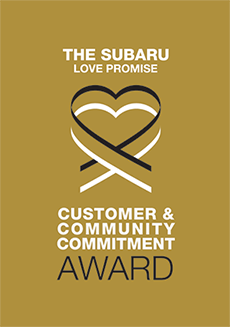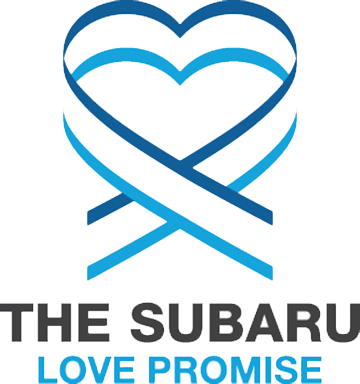 What is the Subaru Love Promise?
Subaru and our retailers believe in making the world a better place and the Subaru Love Promise is our vision of respecting all people. This is our commitment to show love and respect to our customers and to work to make a positive impact in the world.
How is Quantrell Subaru dedicated locally to the Love Promise?
Our Love Promise can be seen in various partnerships with local charities and non-profits. We're grateful for the opportunity, not only to be a part of our community, but to serve it as well.
Woodford Humane Society, Lexington Humane Society
Reforest the Bluegrass, Raven Run Wildlife Sanctuary
Breckinridge Elementary, Harrison Elementary, Glendover Elementary, Cassidy Elementary
Mission Lexington, Hope Center, Catholic Action Center
God's Pantry, AVOL, The Nest, Hope Lodge, Meals on Wheels
Love Promise Stories from Quantrell Subaru
Subaru and Quantrell Subaru believe in making a positive impact on the communities in which we live and work. We uphold that belief through our Love Promise Community Commitment. Every month, we select inspiring stories from customers and partners from around our area who strive to support our collective commitment and feature them here
Sharing the Love for Reforest the Bluegrass! - Heather W
Quantrell Subaru once again showed love for Lexington and the environment through its partnership with Lexington's Division of Environmental Services in support of Reforest the Bluegrass. Though Reforest had to look different in 2021, the importance of planting trees was not overlooked by community partners like Quantrell. Thanks to the support of Quantrell Subaru and other tree advocates, we were able to adapt Reforest the Bluegrass for pandemic conditions by hosting a series of nine small planting events in neighborhood green spaces over a series of three weekends; these were smaller-scaler versions of our traditional, one-day, one-location planting event. Over 400 volunteers registered to help! We were also able to carry out Reforest at Home, a program providing trees to the community to be planted in back yards. In total, over 6,000 tree seedlings were planted throughout the city. That's quite an accomplishment! Thank you Quantrell Subaru for recognizing the importance of trees in our community and for supporting Reforest the Bluegrass!
---
Shuffling for Shelter - Christina G
Quantrell Subaru returned as sponsor for our annual Shamrock Shuffle 3K to benefit Lexington Habitat for Humanity for the second year in a row! The Subaru Love Promise is a commitment to supporting passions and causes in the local community and has helped us create more affordable housing right here in Lexington. Because of race sponsors like Quantrell Subaru, Antoine and Cendrielle made their dreams of homeownership a reality! Their children now have their own rooms and space to play. With Quantrell Subaru's support, families can build strength, stability and self-reliance through shelter. On behalf of these families and everyone at Lexington Habitat, thank you!
---
Quantrell Subaru Shares the Love with The Nest - JoEllen W
Quantrell Subaru's Love Promise was profoundly felt by The Nest-Center for Women, Children & Families! Due to the coronavirus, the past year was very challenging for our organization and the individuals and families we serve. Since 1977, The Nest has been a safe and healing place for individuals and families in crisis, facing adversity, or who have unexpected needs. We provide education, counseling, advocacy, and support in English and Spanish to over 5,000 clients each year. Many of our clients, already facing hardship before COVID, experienced even more difficulties. Unable to rely on our traditional, in-person fundraisers for an entire year, we were tasked with adapting to virtual events and trying to raise the funds needed. The Nest depends on community support to operate our four free programs: Early Childhood Education, Family Assistance for Basic Human Needs, Counseling and Advocacy for Survivors of Intimate Partner Violence, and Education and Support for Parents. We were overjoyed and overwhelmed to receive over $40,000 as the recipient of the Share the Love program! It's been a true blessing, allowing us to make up for last year's losses. The Nest strives to embrace, encourage, and empower individuals, parents, survivors and children while they move toward stability and self-sufficiency. With compassionate, generous partners like Quantrell Subaru, we are able to transform lives and create a safe, equitable, and thriving community!
---
Quantrell Helps The Red Cross - Ryan B
On a cold and sunny MLK day, donors came to Quantrell to help the Red Cross collect much needed blood donations! Since Covid hit, the Red Cross has had to cancel over a 1,000 drives in our region, resulting in the loss of 100,000's of potentially life saving blood products. According to Ryan Brown, Account Manager for the Red Cross, "This time of year is always a struggle for us, as donations tend to slip off due to holiday travel, and just the normal getting back into the swing of things. Throw in Covid, and you can see why collections are down! Thankfully we have great partners, like Quantrell who allow us to use their facility to collect these very precious and needed donations." With Quantrell's help the Red Cross was able to collect 21 units of blood that can potentially impact 63 lives! Thank you Quantrell for being such a great supporter, and most importantly, helping the Red Cross to save lives!
---
Millcreek Thanks you! - Candace T
The students and staff at The Academy for Leadership at Millcreek Elementary were overwhelmed with the supplies we received. This generous donation will allow our children to have the supplies needed to be successful in the classroom. The books we received for the library brought diversity and new adventures for our students to dive in with each new read. The staff bags allowed teachers to have new supplies to use during online and in person learning. Our school family would like to thank you from the bottom of our hearts for the kindness we have been shown, and would like to let you know that you helped so many in such a trying time for all. Thank you again for this tremendous act of kindness and all the help it provided to our school.
---
Quantrell Subaru supports Reindeer Express - JoEllen W
For forty-four years, The Nest has held our Reindeer Express holiday event. This event assists families with children five years-of-age and younger who have received services from The Nest within the year. These families are provided with new toys, coats, hats, scarves, gloves, art supplies, and books which will be given to their children as gifts for the holiday season. Every family receives a food box, as well. This year, we had approximately 950 children in need of new gifts and winter wear. We were so fortunate to have Quantrell Subaru as our title sponsor. The coronavirus has made this year more challenging for people already experiencing hardship. We had to make adjustments in carrying out Reindeer Express to ensure the health and safety of everyone involved. The families participated in a "drive-thru" pick-up, where they received their gift bags while remaining in their car to maintain social distancing. The Nest is thankful for our partnership with Quantrell Subaru and grateful for their unwavering commitment to our community. Their generosity and support of Reindeer Express made a tremendous difference in so many lives. Quantrell Subaru put smiles on children's faces and helped families in need have a joyous, holiday season.
---
Quantrell Subaru Truly Does Love Pets - Beth O
October is Subaru Loves Pets Month and Quantrell Subaru made a big impact at Woodford Humane Society this year! By sharing pet stories on social media and pledging a $100 donation per pet for the first 31 cats and dogs adopted in October, Quantrell helped drive interest in adoption - so much so that we more than doubled that goal, with 64 pets finding homes. Those 64 pets included plenty of puppies and kittens, but also some senior pets like Molly. Molly is a 10 1/2 year old bearded collie mix. She wasn't a new face at Woodford Humane; in fact, she had been adopted from us all the way back in 2013 after surviving a truly horrific hoarding case. Her adoptive parents loved her dearly; but when one of them passed away, the other couldn't keep up with her care alone. Thanks to Quantrell Subaru helping get the word out, Molly is now settling in with a new family who love her just as much. The adoption success during Subaru Loves Pets Month was wonderful enough, but Quantrell Subaru didn't stop there! They raised hundreds of dollars with their Subaru Loves Pets Fund, and even matched what they raised, to help Woodford Humane continue providing care for hundreds of animals in need each day. And Quantrell Subaru even hosted an adoption event at the showroom, where our kittens and puppies got tons of love - and for the luckiest few, a forever home. Thanks so much to everyone at Quantrell Subaru for making this year's Subaru Loves Pets Month one to remember! It was certainly a bright spot in a difficult year like 2020.
---
Quantrell Subaru Spreads Love & Warmth at The Nest - JoEllen W
Quantrell Subaru's donation of blankets to The Nest is most appreciated as the season changes and temperatures drop. For the vulnerable individuals and families we serve, securing basic necessity items, such as toiletries, are at the top of their needs list. Blankets would be an additional expense not many can afford. Quantrell Subaru's generous gift provides warmth, comfort, and one less concern for our individuals and families. We and they are very grateful. Thank you, Quantrell Subaru, for going above and beyond in your generosity, loving support, and dedication to our community!
---
Quantrell Subaru Does it Again! - Ryan B
Once again Quantrell Subaru teamed up with the American Red Cross to provide lifesaving units to patients and hospitals in need! With October being Breast Cancer Awareness Month, The American Cancer Society estimates that 276,000 women in the U.S. will be diagnosed with breast cancer in 2020. This means 1 in 8 women in the US will be diagnosed with this debilitating disease. Blood is often a critical part of ensuring that women diagnosed with this disease survive their treatments. On a cool and blustery Monday in October, sixteen donors came out to give and support those who need it most! From their generosity and the efforts of the Red Cross staff, thirteen units of lifesaving/altering blood were collected! These units will potentially impact thirty-nine lives for the better! Thank you Subaru for hosting and supporting this wonderful organization, and helping them fulfill their life saving mission!
---
Sharing the Love by delivering Meals on Wheels - Quantrell S
Quantrell Subaru is keeping their love promise by partnering with Meals on Wheels of Lexington. We are a volunteer-based humanitarian program that serves a hot meal at noon along with dinner and breakfast for the next morning to homebound seniors, those with disabilities and terminal illnesses. We began our mission in Lexington in 1969 and we are still going strong today thanks to amazing volunteers like those from Quantrell that put their wheels on the road to serve Meals on wheels recipients in Fayette Co. The 2nd Tuesday of each month Quantrell staff members show up to our kitchen to pick up the hot meals ready to hit the road and deliver! During the COVID 19 pandemic Quantrell has remained dedicated to helping and have shown up with face coverings and armed with hand sanitizer. They also had a food drive to help replenish our shelves and gave a monetary gift to help with our mission. The funds were used to purchase a freezer that had just gone out. Perfect Timing! Subaru loves to help, and we want to thank you for staying committed to your love promise and to the Quantrell staff for putting their hands and feet in action by serving our community and making the world a better place!
---
Giving Patients Hope by Giving Blood - john d
Quantrell Subaru hosted a Red Cross blood drive in June to help address widespread blood shortages. The American Red Cross is the largest FDA-regulated blood bank in the United States. Every 2 seconds someone in the U.S. needs blood, and 40% of the blood that ultimately makes its way to hospitals starts at an American Red Cross blood drive. Thousands of these donations also go to Central Kentucky each year. Unfortunately, over 30,000 Red Cross blood drives have been canceled between February and June due to COVID-19. Quantrell Subaru provided an open opportunity for employees, customers and other community members to make a life-saving difference. The blood collected at the June blood drive could help up to 78 patients receive critical treatments or surgeries. Quantrell Subaru also provided an opportunity for our team to help beyond drive-day by hosting at a time when the Red Cross are testing for COVID-19 antibodies. Those confirmed to carry antibodies are eligible to donate their plasma to help those who are most ill due to COVID-19 complications. We were very grateful to form a meaningful community connection with the folks at Quantrell Subaru. In all, we can't help anyone without the help of others.
---
Sharing the Love & Feeding Senior Citizens in Need - Janna G
Quantrell Subaru has been a long-standing supporter of Capital City Activity Center over the past several years. Capital City Activity Center's mission is to enhance senior living for people 50 and above by providing programs, activities and opportunities for education and good health. Quantrell Subaru has joined our community supporting seniors by providing a Crosstrek for our annual 'Cram the Crosstrek' Food Drive Event that helps us to restock our emergency food pantry with non-perishable food items to be donated to seniors in need through the Center's outreach program. They even go above and beyond and help serve a Christmas lunch to our members! Their support helps our mission by providing seniors in need with food at crucial times. We love partnering with Quantrell Subaru during the Subaru Share the Love Event. They're the wheels, we're the meals, and senior citizens are the winners! Thank you Quantrell Subaru for your continued generosity and valued partnership in feeding our community.
---
Sharing the Love and Giving HOPE - Anna R
Quantrell Subaru has been a dedicated supporter of the Hope Center since our inception in 1993. The Hope Center helps people in our community suffering from addiction, mental illness and homelessness. Quantrell Subaru's support over the past 27 years has provided our clients with food, shelter, clothing, recovery resources and programs, mental health diagnosis and treatment, transitional housing, permanent housing, employment assistance, social services, support for veterans and mobile outreach. Thanks to their generosity, our programs continue to rebuild the lives of people experiencing homelessness and addiction across Lexington and beyond. Each day more than 650 people are receiving the help and treatment they need, empowering them to live happier, healthier and self-sufficient lives. This $14,382 gift from Quantrell Subaru will provide life-changing and life-rebuilding resources for our Hope Center clients. On behalf of everyone who has been impacted by the Hope Center over these 27 years, we thank Quantrell Subaru for their continued generosity.
---
Quantrell Subaru Shared their Love with The Nest - JoEllen W
Quantrell Subaru's Share the Love is aptly named as this program helped raise over $19,000 for The Nest-Center for Women, Children & Families! Through our Share the Love partnership with Quantrell Subaru, The Nest continues its mission to provide a safe place for education, counseling and support for women, children and families in crisis. Our holistic approach incorporates four free programs: family assistance for basic human needs, education and support for parents, counseling and advocacy for survivors of intimate partner abuse, and a five-star-rated childcare. With Quantrell Subaru's support, The Nest serves the community with a focus on family stabilization and the prevention of child abuse and neglect, reaching thousands of parents, survivors, and children this year. Quantrell Subaru is dedicated to making the world a better place, and The Nest is extremely grateful for their contribution toward our efforts!
---
Building homes, communities and hope - Christina G
When Quantrell Subaru says "Subaru Loves to Help", they mean it! Quantrell recently sponsored Lexington Habitat for Humanity's largest fundraising event of the year, the Shamrock Shuffle 3K. Since the race began 13 years ago, it has helped build or rehabilitate 299 homes in Lexington. Quality, affordable housing changes lives and it would not be possible without support from generous community partners. With Quantrell Subaru's support, families can build strength, stability and self-reliance through shelter. On behalf of these families and everyone at Lexington Habitat, thank you!
---
Hit the Books with the Lexington Legends - Anne M
The Lexington Legends are a Minor League Baseball team in Lexington, KY. For years, the Legends and Quantrell Subaru have been partners. This year, we decided to include a different element, the presenting sponsorship of Hit the Books. Hit the Books is the Lexington Legends' reading program. It has two parts. The first part is a bookmark design contest. With the winner being featured on 45,000 bookmarks. Over 5,000 kids from the Bluegrass area submitted their baseball and Legends themed bookmark designs. The second part of the program is where the kids actually "Hit the Books". The 45,000 bookmarks are (normally) distributed to about 100 schools in the Bluegrass. Once each child reads 4 books at their reading level, they can take the bookmark to a Legends game and receive 2 free tickets. We had all the bookmarks out for production and ready to go when COVID-19 hit. With kids being homeschooled and the timeline for school to come back, continually moving, we knew we had to figure out a way to do this program in a new and unique way. We came up with the idea to relaunch the entire program with a bit of a different spin. Before relaunching the new program, we wanted to make sure we acknowledged the kids who were the winners of the original program. We informed them via video through their schools. Then, on Wednesday we officially relaunched the new program. Instead of kids designing a bookmark, they're designing a program ad for our souvenir program. This will be part of a larger Quantell Subaru ad. Kids can also keep their design sheets and use it for 2 free tickets to a Legends game, once the season begins. The design sheet was sent out to our 100k+ e-mail database, as well as posted on the Legends' social media outlets. The benefit of relaunching this program is two-fold. First, it allows the partnership and the program to continue. But secondly, it gives parents and kids something to do while they're stuck at home. The bookmarks that had already been printed will still be distributed once it is safe to do so. If schools go back, we will deliver the bookmarks to the schools. If the schools do not go back into session, we will deliver the bookmarks to libraries, summer camps and stores with matching demographics.
---
2 Weeks, 248 Pet Adoptions - Beth O
The Adoption Drive, presented by Quantrell Subaru, took Woodford Humane Society by storm in December! Quantrell Subaru sponsored all adoptions during the 2-week event, and the response from the community was huge. Lines of adopters waited at the doors almost every day, and once the dust had settled, hundreds of dogs, cats, and guinea pigs had found their homes. The Adoption Drive's success stories include senior pets, long-term residents, and pets with special needs in addition to plenty of puppies and kittens. Two dogs, a shepherd/pitbull mix named Jax and a boxer named Shelley, had been patiently waiting to be adopted for over a year. A sweet epileptic cat named Flicka found her perfect home. And an 11-year-old gray tabby named Jack got swept off his feet. These are just a few of so many amazing "happily ever afters" made possible by Quantrell Subaru during this winter's Adoption Drive! From all of us, and all of our furry friends: Thank you, Quantrell Subaru, for giving them a ride home.
---
Toys and Treats for Pets In Need - Beth O
Quantrell Subaru doesn't just say "Subaru Loves Pets," they act on it! Woodford Humane Society received a fantastic donation of toys, food, treats, and other pet supplies this fall, some specially provided by Subaru and some brought in by Quantrell's generous staff. The squeaky Subaru toys are always a favorite! Thank you, Quantrell Subaru; our staff, volunteers, and especially our dogs and cats are so grateful to have you as part of our pet-loving family!
---
Quantrell Subaru Showered the Love this September - Kim L
The Lexington Rescue Mission is a ministry that meets the physical, emotional and spiritual needs of hurting people in the greater Lexington area. We serve the most vulnerable in our community, those who are homeless or living in poverty. The help we provide takes many forms, but we often say it starts with a meal. In 2018, we served 45,631 meals. For the past few years we have been serving lunch four days a week. Due to the need expressed by our guests, we decided to expand our meal service to six days a week beginning in September. A couple of months before this expanded meal service was to begin, Quantrell Subaru contacted us and told us they wanted to support the clients served at the Mission. They told us they wanted to gift us with $200 from each Subaru sold in September. They even took the initiative to come to the Lexington Rescue Mission to take a tour to learn more about our services, and film a video to showcase our program. We couldn't believe such generosity was being offered to us, and at just the time we needed it most. Because of Quantrell Subaru's kindness, many in our community are receiving hot, nutritious meals which in many cases provides us the opportunity to assist with other critical needs such as clothing, housing, or job assistance. Quantrell Subaru significantly impacted the lives of many people in their community with this $22,600 gift. We wish they could see the smiles we see as people come in for a warm meal. On the behalf of everyone who has received help and assistance through this generous gift, we thank Quantrell Subaru from the bottom of our heart.
---
Quantrell Gives The Well Keys to Sharing the Love - Lauren R
At the Well of Lexington, we believe in love, and miracles. Much like Subaru and its retailers, we strive to make the world a better place. As a non-profit with the mission of providing a holistic program of safe housing, recovery support, education and healing for women exploited by sex trafficking, we work every day to empower them to reach economic independence and live productive lives throughout our intensive rehabilitation program. While regaining their strength, women of The Well are provided professional support through a life skills coach, medical professionals, social workers and counselors. During this two-year tenure, these incredible survivors-turned-thrivers live a clean, drug free life while advancing their education, finding employment and learning how to trust themselves and others while taking control of their lives. Most importantly, however, our residents learn to have hope again; something every survivor, and every human is entitled to. But because of personal safety reasons, each woman must be escorted and guaranteed transportation at all times in addition to receiving safe transportation to and from all medical and social work appointments, fun community outings, professional growth classes and enterprise opportunities; something that is integral for us to offer our residents on their healing journey, but something that we were struggling with due to a lack of safe transport. This is where Quantrell Subaru stepped in for us in a huge way: by gifting us a 2014 minivan as a donation in 2018. Without this vehicle, we would literally not be able to do what we do for our residents, and this means the world to us! They helped us help others in an incredible, life-changing way when we were at a loss and a crossroads for what to do or where to go to further our mission, and our life's work. To each person who helped us along the way who provided us exceptional service discreetly and free of judgement, you are amazing and we appreciate you. Because of you, our residents are given the chance to regain their identities, lead a full, impactful life, learn to thrive and take pride in their accomplishments and make the transition from a life of trafficking to one of freedom. And we are so grateful. Thank you, Quantrell Subaru, for sharing the love with us so we can share it with countless others, making the world a brighter place and proving that even in the darkest of times, light and love will conquer all.
---
Sharing the Love - Ginny R
Since the founding of the Catholic Action Center in 1999 Quantrell has been an invaluable supporter of the ministry. As an all- volunteer, non-government funded ministry we depend on monetary donations, in kind donations and volunteers from individuals ,faith communities and businesses to support the work of providing food, shelter, and basic human needs to those who are the most disenfranchised in our community. Over 5.9 million meals and 875,00 nights of shelter have been provided thanks to this generosity. Quantrell has stood out as a supporter and the Share the Love partnership has been an amazing blessing. Because of the unbelievable donation of $ 64.960.71 from the Subaru Share the Love we have been able to upgrade our HVAC system that keeps the men and women occupying the 134 beds nightly at the Catholic Action Center cool in the summer and warm in the winter. The costs of operating the Compassionate Caravan that reaches out to those on the streets in the heat of the summer and cold of the winter with life saving supplies are covered for the next year with this donation. We also have been able to provide apartments for families with children who are experiencing homelessness and give them a chance to get on their feet and become independent. The Share the Love funds will cover the support needed for this program to continue for 2 years impacting over 250 women, men and children! It is difficult to put into words the spirit, generosity and support that Quantrell has shared not only with the Catholic Action Center but the effect they have on the entire community of Lexington, KY and beyond. They share the love in so many ways. As Coretta Scott King noted "The greatness of a community is most accurately measured by the compassionate actions of its members.." Quantrell exemplifies that compassion and raises the bar of greatness for all of us! With peace and love,Ginny Ramsey, Director and Co-Founder Catholic Action Center
---
Adoption Drive Finds 78 Forever Homes - Beth O
All the staff at Woodford Humane Society and 78 very lucky pets are sending a big thank you to Quantrell Subaru! During the two-week Adoption Drive in December Quantrell Subaru sponsored every single one of Woodford Humane's adoptions, giving 38 cats and 40 dogs a ride home for the holidays and for good. This was the sixth year that Woodford Humane and Quantrell Subaru have teamed up to find a flurry of year-end forever homes, for a grand total of almost 600 happily-ever-afters for homeless pets. If that doesn't make your tail wag we don't know what will!
---
Meals on Wheels-Cram the Crosstrek 2018 - Janna G
Quantrell Subaru really lent a helping hand this holiday season during The Subaru Share the Love event in 2018. They provided a Crosstrek for our annual 'Cram the Crosstrek' Food Drive Event that helped to restock our emergency food pantry from donations made by our members and guests. They are so willing to help us out to feed the hungry in our community and we are looking forward to working with them again. Our staff, members, Board of Directors and homebound seniors truly appreciate the kindness of Beth, Derek and Quantrell Subaru!
---
Provides for Pets - And Finds Them Homes - Beth O
Woodford Humane's pets can't thank Quantrell Subaru enough! Through a running "Pet of the Month" feature, they're helping our dogs find their forever homes. And while the animals wait for those homes to come along, Quantrell is kind enough to collect and donate pet items and cleaning supplies to help make sure their stay at WHS is as happy and healthy as it can be. Thank you so much, from all of us and our furry friends!
---
Thank you for the books! - Laura V
We will use these books to ensure that our students have new and exciting books of their own to keep at home and enhance their personal library! We know how important it is to encourage a love of reading and we appreciate our community partners who share our passion for reading! Thank you to Quantrell Subaru!
---
Meals on Wheels - Marchele J
Quantrell Subaru really stepped up to the "plate" during The Share the Love event 2017. They not only came to help serve to congregate lunches during our Thanksgiving and Christmas Celebrations, but they provided a new 50th edition Outback to help deliver meals to homebound seniors and also for a food drive event we had at our Center that helped to restock our emergency food pantry. They are so willing to help us out and we are looking forward to working with them again to help collect food for our emergency food pantry and to help deliver meals again. Our members and homebound seniors love Derek and Beth!
---
Blanket Delivery 2018 - Jason Y
Quantrell Subaru gave the gift of warmth to cancer patients at the Hope Lodge in Lexington.
---
Quantrell Subaru Gives Us the Keys to Hope - Suraya S
Quantrell Subaru has been a strong supporter of the Hope Center since our doors opened to serve Lexington's homeless in 1993. Their nearly $1 million in donations over the last 25 years has enabled us to address the underlying causes of homelessness and help thousands of individuals turn their lives around. In 2002 the Quantrell Subaru family provided funds to build the Ball-Quantrell Jones Recovery Center for Women, Lexington's first long-term residential recovery facility for women. In 2006, Quantrell Subaru once again answered the call as the need for comprehensive recovery programs grew, and pledged funds to help build the George Privett Recovery Center for Men. Quantrell Subaru has donated five new vehicles for auction, generating nearly $400,000 in revenue for the Hope Center. Reverend Bonnie Quantrell Jones has literally blessed the Hope Center by giving invocations and benedictions at the openings of our new facilities. The financial and spiritual support the Quantrell Subaru family has given continues to save lives every day. With Quantrell Subaru's assistance, over 800 people each day are overcoming addiction, mental illness and employment barriers, empowering them to live happier, healthier and self-sufficient lives.
---
Mission Lexington - Chris S
You have saved lives. Your "Share the Love" support for the free clinics of Mission Lexington has provided life-saving care to patients who could afford it no other way. One patient came to Mission Lexington's free medical clinic for help obtaining much-needed asthma medications. Even though he'd lost his job two years ago in sales (in part because of the poor condition of his teeth), he'd had insurance until July, (he'd had Medicaid through the Affordable Care Act), but upon recertification he did not qualify any longer because his wife's income put him over the limit-- it had increased slightly due to her employer's addition of one hour per day to her schedule. One of Mission Lexington's volunteer physicians determined that the patient had gone without medical care for so long that the patient was experiencing a near-fatal ketoacidosis. After his very first visit to our medical clinic, his wife wrote us a note that said, "Words cannot express how deeply I was touched by your kindness. As I left your clinic today, tears just poured down my face. I have never seen anything like Mission Lexington in my entire life. Every one of you made us feel like 'somebody' again. Thank you for my husband's medicine. There is no way we could have afforded this expensive insulin. Thank you for sharing your kindness, your knowledge, your time and most importantly-- your love. Thank you for saving my husband's life." This patient received care from the Mission Lexington's free Medical Clinic, free Dental Clinic, and free Pharmacy. The patient continued to receive asthma and diabetes medications while he was also completing a treatment plan at Mission Lexington's free Dental Clinic. At the conclusion of his course of dental treatment, the patient was pain-free and had a restored smile. Today, he credits Mission Lexington with both saving his life, and giving him a smile with which he could greet potential employers. He now has a job at a car dealership and an income level that makes him no longer need the services we provide.
---
Quantrell Subaru Helps 170 Pets Find Homes - Beth O
For the past five years, Quantrell Subaru has given the animals at Woodford Humane and hundreds of Central Kentucky families the most wonderful gift at the holidays by sponsoring our pet adoptions. The 2017 Adoption Drive was a bigger success than we could have ever imagined! 170 dogs, cats, and rabbits found their forever homes over the course of an extremely busy two weeks in December. Among those lucky animals was Princess Buttercup, a sweet senior dog who you'll also see in a Love Promise story below, playing with a Pawstrek squeaky toy donated by Quantrell Subaru. Buttercup got to take her Pawstrek with her when she went home, and she's never been happier! Thank you, Quantrell Subaru, for giving so many pets a ride home!
---
Meals on Wheels/Cram the Crosstrek - Derek C
Quantrell Subaru was honored to be a part of the Meals on Wheels "Share the Love" event at Capital City Activity Center in Frankfort, KY. At-home meal delivery is such an important mission for seniors who wish to stay in their homes.
---
It's official, dogs love Subaru! - Beth O
Quantrell Subaru collected donations for the pets at Woodford Humane this fall, and sent some special gifts of their own, too. Princess Buttercup especially loves the 2017 Pawstrek squeaky toys! Thank you so much for providing toys and treats that bring a little extra joy to these pets as they wait for their forever homes, and starter packs to help them settle in once they do.
---
Quantrell Goes Pink - Becky W
In October 2009, while working at Quantrell, I was diagnosed with breast cancer. Receiving this news was life altering, and after eight years of strong faith, I am enjoying new life experiences with friends and family, including my son, daughter and soon to be three year old grandson. I am grateful for my work family who is supportive in the fight against breast cancer.
---
Quantrell Subaru Loves Learning - Sue M
Quantrell Subaru delivered an Outback full of books to Breckinridge Elementary School as a part of the Subaru Loves Learning initiative. Principal, Michael Price was incredibly appreciative and excited to share these books with his staff and students.
---
Bike MS - Lee H
Quantrell Subaru kindly sponsored the National Multiple Sclerosis Society's Bluegrass Bourbon Ride this year to raise money for research to fight multiple sclerosis. I've been a Quantrell customer for sixteen years and felt that requesting a sponsorship made perfect sense because of what Quantrell stands for and what I stand for. This bike ride began on June 24 at Anderson County High School, Lawrenceburg and traveled to Heaven Hill Distillery in Bardstown. Routes took cyclists through horse country and the infamous Bourbon Trail. On Saturday evening, participants enjoyed dinner at Heaven Hill, then stayed overnight in Bardstown. Sunday morning cyclists headed back to Lawrenceburg where they enjoyed an afternoon of finish-line festivities. Thank you to Quantrell for taking part.
---
Helping Pets Affected by Hurricane Harvey - Winfrey K
A Quantrell Subaru customer traveled to Houston to help with animal relief efforts after Hurricane Harvey. We set out to collect towels, leashes, harnesses, food and water bowls, and unopened bags of dog food. They will need foster families in Lexington for the dogs who lost their families due to the storm.
---
Keeping It Cool - Beth P
Quantrell Subaru provides the "Cooling Off Station" for those hot summer afternoons and evenings at the ballpark! Especially popular with the kiddos, but sometimes adults and furry friends are equally appreciative!
---
Subaru and NWF Loves the Earth - Kristi F
Cassidy Elementary's first grade students dug right into helping with the Subaru Loves the Earth Initiative! We were delighted to plant additional nectar plants and milkweed for the monarchs in our science garden as the winter months had been quite hard on our garden. Our citizen scientists were especially excited to improve the wildlife habitat with the wonderfully handcrafted bird houses, bird feeders, bird bath, and toad abode provided by our local Subaru dealer. The need for food, water, and shelter were critical elements that these same students had identified as being needed for our outdoor space when they had completed a garden inventory as kindergarteners. It brought such satisfaction to see how our community partnership with Quantrell Subaru helped our school garden achieve all the right parts for a thriving and sustainable wildlife habitat. Watch our visit with Quantrell Subaru as we received our National Wildlife Federation goodies and planted native plants: Cassidy Elementary Science Garden on Vimeo: https://vimeo.com/223652699?ref=em-share
---
Quantrell Spreads Hope, Warmth and Love - Kristina T
Quantrell Subaru certainly does "LOVE TO CARE." We met again this year at Baptist Health Lexington's Cancer Center in late June to deliver blankets and craft kits along with messages of hope to cancer patients.
---
Thank You From The Animals - Madison C
Quantrell Subaru continues to play a vital role in helping Lexington Humane Society (LHS) continue its mission to Give Love, Teach Love and Adopt Love. They are always receptive to new ideas for helping Lexington's homeless animals and are truly a partner in supporting our life-saving efforts. Continued sponsorships and support from key staff help better our organization and allow us to provide necessary care to the nearly 5,000 animals that come through our doors each year. Their sponsorship of this year's Mutt Strut dog-friendly walk helped raise over $50,000 for homeless animals. In addition to their generous sponsorship they even distributed frisbees to attendees! We are so grateful for their support and hope others will recognize their outstanding support of LHS, the animals and our community. Thank you!
---
Cassidy Elementary - Kristi F
Cassidy Elementary's first grade students dug right into helping with the Subaru Loves the Earth Initiative! We were delighted to plant additional nectar plants and milkweed for the monarchs in our science garden as the winter months had been quite hard on our garden. Our citizen scientists were especially excited to improve the wildlife habitat with the wonderfully handcrafted bird houses, bird feeders, bird bath, and toad abode provided by our local Subaru dealer. The need for food, water, and shelter were critical elements that these same students had identified as being needed for our outdoor space when they had completed a garden inventory as kindergarteners. It brought such satisfaction to see how our community partnership with Quantrell Subaru helped our school garden achieve all the right parts for a thriving and sustainable wildlife habitat. Watch our visit with Quantrell Subaru as we received our National Wildlife Federation goodies and planted native plants:
---
Quantrell Subaru Shares the Love with LHSC - Colby E
WOW! Quantrell Subaru's 2016 Share the Love Campaign helped raise over $37,000 toward the LHSC mission. With the money raised from this amazing campaign, LHSC is able to continue our mission of teaching children how to listen and talk. Lexington Hearing & Speech Center annually provides services to over 1,200 families from over 65 Kentucky counties and we are honored to have Quantrell Subaru as a partner in our mission of providing sound beginnings.
---
Take a Hike - Beth P
Quantrell Subaru delivered bottled water and dog toys to hikers on the trails at Natural Bridge State Park.
---
Pet Adoption Drive - Katie H
There are almost no words for how wonderful the Adoption Drive was this year, thanks to Quantrell Subaru. 130 lucky pets found their forever homes - and now, thanks to these empty spaces, we're able to do something we're almost never able to do: help other organizations who are overflowing with animals in need. We know that won't last forever - spring will bring lots of homeless pets with it - but it sure feels good to help right now. Please join us in saying a thousand thank yous to Quantrell Subaru for making this possible, and let's keep these adoptions going so we can continue to help as many pets as possible!
---
Breckinridge Elementary - Sue M
Quantrell Subaru donated boxes of school supplies to our school as part of the Subaru Loves Learning event. The supplies were greatly needed and appreciated by our students and teachers!
---
My Subaru Helps Me Share With Others - Fronza G
Ever since I purchased my 2011 Subaru, I have been able to haul many things to help others. Food, clothing, personal items and household goods. Donating to homeless shelter(s) and organizations that needed furniture for someone whose home had burnt down. My Lady Baru (the name of my Outback) and I have traveled many miles to accomplish many things. Without her help I never would have been able to travel the many hills and mountains. We also took many things to our veterans at VA hospitals and veterans nursing homes. I love my Lady Baru and she gives me the confidence I need to continue helping me share with others.
---
Blankets for Cancer Patients - Ashley M
Quantrell Subaru and The Leukemia & Lymphoma Society recently collaborated on a project to provide support and warmth in the form of 100 blankets for cancer patients at Baptist Health Lexington Cancer Center.
---
Catholic Action Center - Ginny R
Quantrell Subaru chose the Catholic Action Center as the local charity for the 2015 "Share the Love" event. While discussing this event, we determined Quantrell would be the perfect spot for a toy collection site for the annual "Community Christmas Store" sponsored by the Catholic Action Center. Many employees and clients from Quantrell donated new and gently used items for the store, making a difference for many families in the community.
---
Beautify Lexington! - Susan P
Quantrell is partnering with Keep Lexington Beautiful to "Green Up for Breeders' Cup," a citywide public-private beautification initiative. The initiative supported by public and private partners, is designed to enhance long stretches of four major transportation corridors leading into town. A local landscape architecture firm will professionally design planting beds along those corridors. Once completed, the city's Division of Environmental Services will maintain the beds. "The 2015 Breeders' Cup" will put the global spotlight on Lexington, Mayor Jim Gray said. "This is a great opportunity for us to make Lexington look its best, both now and in the future."
---
Quantrell Subaru Sponsored Adoption Fees For Woodford Humane Society - Diane B
Quantrell Subaru sponsored all adoption fees from December 19 - 31. This is the second year they took care of the adoption fees and another successful event! Last year we had over 70 adoptions in the event period. The final number isn't in yet for 2014 but we are so grateful!
---