The 2022 Subaru Love Promise Community Commitment Award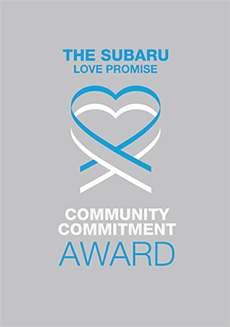 We've been nationally recognized for our dedication to our community and the Subaru Love Promise.
We're honored to receive the 2022 Subaru Love Promise Community Commitment Award. This award nationally recognizes Subaru retailers who are making the world a better place while demonstrating an outstanding commitment to supporting passions and causes in local communities. These efforts are focused in important areas such as the environment, community, health, education, and pets.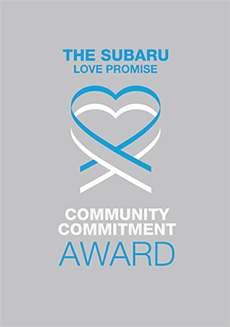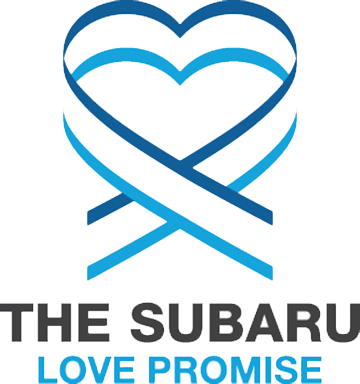 What is the Subaru Love Promise?
Subaru and our retailers believe in making the world a better place and the Subaru Love Promise is our vision of respecting all people. This is our commitment to show love and respect to our customers and to work to make a positive impact in the world.
How is Quantrell Subaru dedicated locally to the Love Promise?
Our Love Promise can be seen in various partnerships with local charities and non-profits. We're grateful for the opportunity, not only to be a part of our community, but to serve it as well.
Woodford Humane Society, Lexington Humane Society
Reforest the Bluegrass, Raven Run Wildlife Sanctuary
Breckinridge Elementary, Harrison Elementary, Glendover Elementary, Cassidy Elementary, Russell Cave Elementary
Mission Lexington, Hope Center, Catholic Action Center, Chrysalis House
God's Pantry, AVOL, The Nest, Hope Lodge, Meals on Wheels
Love Promise Stories from Quantrell Subaru
Subaru and Quantrell Subaru believe in making a positive impact on the communities in which we live and work. We uphold that belief through our Love Promise Community Commitment. Every month, we select inspiring stories from customers and partners from around our area who strive to support our collective commitment and feature them here
Earth Day - Susan P
Diana Keating and another Subaru employee visited us at Booker T. Washington Elementary on Earth Day. Diana had contacted me about coming over to do an Earth Day activity with our students. When they arrived they had the most beautiful flowers for our students to plant and take home. They talked with our students extensively about how Subaru works to be Green and help our Earth. The students really enjoyed the activity and were so excited to take home such beautiful flowers to their families. It was a wonderful event and one our students will remember! Thank you for visiting our school!
---
Quantrell Subaru Pony's Up for The Nest - JoEllen W
Quantrell Subaru absolutely went above and beyond for Pony Up for The Nest. This event, held annually in the Phoenix Room at Keeneland, was our first gathering of 2022. The funds raised from this occasion are very important, as first quarter is typically lean in donations following the holiday season. Quantrell Subaru's sponsorship helped us meet the fundraising goal for cleaning supplies in our Family Assistance Program. The Spring Meet helped our families obtain Spring cleaning supplies. Cleaning item donations are often overlooked and scarce but crucial for our families' health. We cannot thank Quantrell Subaru enough for their continuous support and generosity. The Nest is grateful for this incredible partnership!
---
Reforest the Bluegrass tree planting - Malcolm S
For more than 50 years now, the Quantrell Auto Group has been deeply rooted in Lexington and has repeatedly demonstrated its commitment to making our community a better place. In 2022, as it has for the previous three years, Quantrell Subaru stepped up and financially supported the Reforest the Bluegrass program, Lexington's annual tree planting event. More than 250 dedicated volunteers and city employees braved the cold, rain, sleet and snow to plant 4,500 trees in Belleau Woods Park on April 9. One of those volunteers was five-year-old Elsie. "This was my daughter's first time at Reforest the Bluegrass and she loved it," says her mother, Amy. "The staff was so friendly and one even helped her plant a tree. She is excited to go back and visit it, and now she's asking about planting trees at home. Thank you for a wonderful event." Another was 10-time participant Karen who says she takes part because she likes helping the environment. "The sponsors donate the trees, but they need people to put them in the ground." Karen, 71, planted 10 trees at the event. Subaru says its retailers believe in making the world a better place. Through its support of the Reforest the Bluegrass and other community programs, Quantrell Subaru shows Lexington that they are rooted in making our lives better.
---
Quantrell Subaru Shuffles For Shelter - Christina G
Quantrell Subaru is a returning sponsor for the 16th Annual Shamrock Shuffle 3K for the third year in a row! Because of supporters like Quantrell Subaru, hundreds of folks throughout our community are sleeping in a safe, warm, stable home of their own tonight. Warren, who is blind, is now able to safely navigate his home with accessibility modifications. Neema has the vegetable garden she's always dreamed of. Gerald and Martha can't stop saying how happy they are to have a washer and dryer for the first time. Quantrell Subaru continues to help bring quality, affordable housing within reach of more of our neighbors like Warren, Neema, Gerald and Martha. It makes our community a better place to live for us all. They are changing lives.
---
Presenting Sponsor: PROM: All Grown Up - Lyndsey L
On March 26th, 2022, Quantrell Subaru, was the Presenting Sponsor of "PROM: All Grown Up!" This amazing, annual fundraiser benefited Early Bird Foundation, Inc., a local non-profit with focus on encouraging and empowering Kentucky families with babies in neonatal intensive care units (NICU).The event was held at the Embassy of Lexington Green and was of great success. 135+ attendees from all across the commonwealth gathered together to raise over $17,000.00 for KY NICU families! Early Bird Foundation, Inc. couldn't have had this success without Quantrell Subaru's involvement; the organization appreciates the company's leadership in the community, philanthropy goals, and especially the generous support and advocacy for KY NICU families! *Pictured above (left to right) is Lyndsey Lewis, Co-Executive Director of Early Bird Foundation, Inc. our Prom Queen and King, Diana Keating, Marketing Director for Quantrell Auto Group, and Ashton Tackett, Co-Executive Director of Early Bird Foundation, Inc.
---
Quantrell Subaru Supports The Nest Diaper Drive - JoEllen W
The Nest's Family Assistance Program provides approximately 450 people each month with basic necessity items. One of the most requested and expensive of these items is diapers. Therefore, we had a diaper drive event in the hopes of securing quantity needed for the rest of the year. The Nest's goal was 30,000 diapers. Unbelievably, we received over 60,000 diapers! A significant amount of the diaper donation came from Quantrell Subaru. They absolutely went above and beyond! The Nest is so grateful for Quantrell Subaru's support. We are very fortunate to have them as an unwavering partner and appreciate the many ways in which they assist our four programs. Thank you, Quantrell Subaru, for demonstrating your dedication to helping families in need and for your never-failing commitment to our community!
---
10 Years of Adoption Drives at Woodford Humane - Beth O
2021 was the 10th straight year that Quantrell Subaru has sponsored Woodford Humane Society's Adoption Drive and helped us send animals to their forever homes in time for the holidays! This December added 145 more lucky cats and dogs to the tally of adoptees that Quantrell Subaru has sponsored - a list that numbers well over 1000. The Adoption Drive also makes it possible for Woodford Humane to help out other overcrowded shelters around Central Kentucky: this year, dozens of dogs and cats from other counties were able to transfer to Woodford Humane and find their forever homes. Thank you so much, Quantrell Subaru! What an amazing gift to give not just Woodford Humane Society and each of the adopted animals, but their families, too!
---
Quantrell Subaru Goes Above & Beyond for The Nest - JoEllen W
Once again, Quantrell Subaru has gone above and beyond for The Nest! They not only sponsored our Reindeer Express event but participated through making donations and volunteering. Beside us every step of the way, Quantrell Subaru facilitated our ability to provide the children of approximately 400 families with coats, gloves, toys, books, art supplies, wrapping paper and food boxes. Struggling families were able to have a more enjoyable holiday season as a result. We rely on community support and are most grateful for Quantrell Subaru's steadfast partnership. The past several years have been challenging for so many people. It's extraordinary to witness and receive the support and generosity of Quantrell Subaru is times of tremendous need. Thank you, Quantrell Subaru!
---
Sharing the Love with Chrysalis House! - NA N
Chrysalis House is so grateful to Quantrell Subaru for sharing the love with the brave women who have made the choice to commit to living in recovery from a substance use disorder. Quantrell Subaru's Love Promise to Chrysalis House means mothers will be given items to meet their basic needs and the basic needs of their infants and toddlers. Through Quantrell Subaru's Share the Love Program, Chrysalis House received 125 backpack diaper bags filled with baby essentials and 125 totes filled with personal hygiene items for mom, sheet sets, and pillows. Just as a backpack - this program will carry some of the burden to provide essentials for pregnant or parenting women when they arrive for admission at Chrysalis House. This simple act of kindness and the Love Promise demonstrates to each woman served at Chrysalis House that the community cares about them and their families. The Share the Love Program is paying it forward, and allows Chrysalis House to provide much needed items that help alleviate a source of stress for the moms who are working so hard to change the trajectory of their lives. Thank you Quantrell Subaru and the consumers who made Chrysalis House their charity of choice, for investing in the community and believing in resiliency, second chances, and the possibility of recovery.
---
Hope Center appreciates Subaru's thoughtfulness! - Morgan G
We are so thankful that Subaru chooses to donate to the Hope Center during the winter months. Subaru marketing director, Diana dropped off 5 boxes of blankets and 1 box of socks to our Emergency Shelter in November and we could not be more appreciative. These blankets and socks will keep our clients so warm this winter season!
---