The 2021 Subaru Love Promise Customer and Community Commitment Award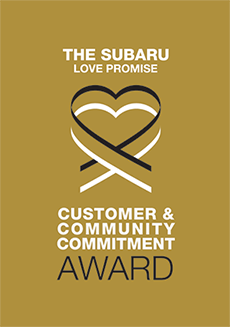 We've been nationally recognized for our dedication to our customers, our community, and the Subaru Love Promise.
We're honored to receive the 2021 Subaru Love Promise Customer and Community Commitment Award. This award nationally recognizes elite Subaru retailers who provide an exceptional customer experience at every interaction with Subaru. These retailers have also demonstrated an outstanding commitment to supporting passions and causes in their local communities in important areas such as the environment, community, health, education, and pets.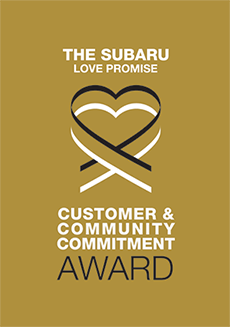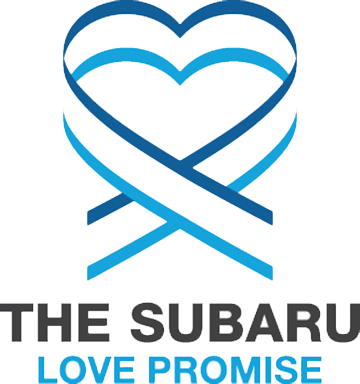 What is the Subaru Love Promise?
Subaru and our retailers believe in making the world a better place and the Subaru Love Promise is our vision of respecting all people. This is our commitment to show love and respect to our customers and to work to make a positive impact in the world.
How is Quantrell Subaru dedicated locally to the Love Promise?
Our Love Promise can be seen in various partnerships with local charities and non-profits. We're grateful for the opportunity, not only to be a part of our community, but to serve it as well.
Woodford Humane Society, Lexington Humane Society
Reforest the Bluegrass, Raven Run Wildlife Sanctuary
Breckinridge Elementary, Harrison Elementary, Glendover Elementary, Cassidy Elementary
Mission Lexington, Hope Center, Catholic Action Center
God's Pantry, AVOL, The Nest, Hope Lodge, Meals on Wheels
Love Promise Stories from Quantrell Subaru
Subaru and Quantrell Subaru believe in making a positive impact on the communities in which we live and work. We uphold that belief through our Love Promise Community Commitment. Every month, we select inspiring stories from customers and partners from around our area who strive to support our collective commitment and feature them here
RCE Library Rebranding - Russell Cave E
We are so thankul that Subaru chose to invest in Russell Cave! This opportunity has allowed us to rebrand our entire library! Libraries often serve as the heart of the school and we wanted our library to reflect our love for learning. We are updating seating to be more flexible and provide for a more collaborative environment. Also, we are adding book nooks for reading spaces. Most importantly, we are adding a Maker Space area that will allow our students to design, engineer and problem solve creatively! We are so excited that we are able to give our students the chance to think outside the box and to continue learning at even higher levels than before!
---
Quantrell Subaru inspires a love for learning - Erica C
The Carnegie Center for Literacy and Learning is an educational and literary arts nonprofit located in the heart of Lexington, KY. For over 10 years, Carnegie Center has been supporting families by providing free themed family events. One of our most well-attended events is Back to School Bash which is typically held in late July. Quantrell Subaru went above and beyond by not only electing to be the event's Presenting Sponsor, but also by coordinating a school supply drive to better equip children for the upcoming school year. With their gracious support, we were able to purchase over 100 new backpacks filled with school supplies and organize a free, family-friendly bash in Gratz Park. Families enjoyed backpacks, new books, BBQ, live music, crafts, and an inflatable slide. ABC36 news was there to report on the successful event that draws hundreds each year. Thanks to Subaru's generous sponsorship, we were able to expand the event and the number of families served. Thank you so much for supporting education! -Erica Cook, Carnegie Center Outreach & Volunteer Director
---
Bike MS: Bluegrass Bourbon Ride - Amanda W
Quantrell Subaru returned as the Lunch Rest Stop Sponsor for 2021 Bike MS: Bluegrass Bourbon Ride. With their support of the National Multiple Sclerosis Society, Bike MS raised over $100,000 with 90 cyclists and many dedicated sponsors, like Quantrell Subaru. Because of Subaru's love, the Society continues to connect and inform people affected by MS across the country by enhancing the virtual programming and in-person opportunities that respond to timely and relevant topics of interest. The Society connects people with each other to foster strength and resilience as they handle the challenges of MS. Bike MS always enjoy partnering with Subaru and sharing their love and passion for helping find a cure and ending MS forever.
---
Quantrell Cares - Ryan B
On June 7th, Quantrell Subaru and the Red Cross joined together to bring awareness to the need for blood and blood products to treat cancer patients, and combat a severe blood shortage, by hosting a blood drive. "Right now, the Red Cross has only a 1/2 day supply of blood to meet local need! This means their are patients who are not being treated because the donations are not there" states Ryan Brown, Area Account Manager for the Red Cross Blood Services. "This is why we are so appreciative of Quantrell and the support they provide, by hosting sites at their location!" Through all the efforts of everyone who participated, we were able to collect 14 lifesaving units! This will potentially impact 42 lives! Huge thank you to all the donors who came out, and a huge thank you to Quantrell for truly caring!
---
Sharing the Love for Reforest the Bluegrass! - Heather W
Quantrell Subaru once again showed love for Lexington and the environment through its partnership with Lexington's Division of Environmental Services in support of Reforest the Bluegrass. Though Reforest had to look different in 2021, the importance of planting trees was not overlooked by community partners like Quantrell. Thanks to the support of Quantrell Subaru and other tree advocates, we were able to adapt Reforest the Bluegrass for pandemic conditions by hosting a series of nine small planting events in neighborhood green spaces over a series of three weekends; these were smaller-scaler versions of our traditional, one-day, one-location planting event. Over 400 volunteers registered to help! We were also able to carry out Reforest at Home, a program providing trees to the community to be planted in back yards. In total, over 6,000 tree seedlings were planted throughout the city. That's quite an accomplishment! Thank you Quantrell Subaru for recognizing the importance of trees in our community and for supporting Reforest the Bluegrass!
---
Shuffling for Shelter - Christina G
Quantrell Subaru returned as sponsor for our annual Shamrock Shuffle 3K to benefit Lexington Habitat for Humanity for the second year in a row! The Subaru Love Promise is a commitment to supporting passions and causes in the local community and has helped us create more affordable housing right here in Lexington. Because of race sponsors like Quantrell Subaru, Antoine and Cendrielle made their dreams of homeownership a reality! Their children now have their own rooms and space to play. With Quantrell Subaru's support, families can build strength, stability and self-reliance through shelter. On behalf of these families and everyone at Lexington Habitat, thank you!
---
Quantrell Subaru Shares the Love with The Nest - JoEllen W
Quantrell Subaru's Love Promise was profoundly felt by The Nest-Center for Women, Children & Families! Due to the coronavirus, the past year was very challenging for our organization and the individuals and families we serve. Since 1977, The Nest has been a safe and healing place for individuals and families in crisis, facing adversity, or who have unexpected needs. We provide education, counseling, advocacy, and support in English and Spanish to over 5,000 clients each year. Many of our clients, already facing hardship before COVID, experienced even more difficulties. Unable to rely on our traditional, in-person fundraisers for an entire year, we were tasked with adapting to virtual events and trying to raise the funds needed. The Nest depends on community support to operate our four free programs: Early Childhood Education, Family Assistance for Basic Human Needs, Counseling and Advocacy for Survivors of Intimate Partner Violence, and Education and Support for Parents. We were overjoyed and overwhelmed to receive over $40,000 as the recipient of the Share the Love program! It's been a true blessing, allowing us to make up for last year's losses. The Nest strives to embrace, encourage, and empower individuals, parents, survivors and children while they move toward stability and self-sufficiency. With compassionate, generous partners like Quantrell Subaru, we are able to transform lives and create a safe, equitable, and thriving community!
---
Quantrell Helps The Red Cross - Ryan B
On a cold and sunny MLK day, donors came to Quantrell to help the Red Cross collect much needed blood donations! Since Covid hit, the Red Cross has had to cancel over a 1,000 drives in our region, resulting in the loss of 100,000's of potentially life saving blood products. According to Ryan Brown, Account Manager for the Red Cross, "This time of year is always a struggle for us, as donations tend to slip off due to holiday travel, and just the normal getting back into the swing of things. Throw in Covid, and you can see why collections are down! Thankfully we have great partners, like Quantrell who allow us to use their facility to collect these very precious and needed donations." With Quantrell's help the Red Cross was able to collect 21 units of blood that can potentially impact 63 lives! Thank you Quantrell for being such a great supporter, and most importantly, helping the Red Cross to save lives!
---
Millcreek Thanks you! - Candace T
The students and staff at The Academy for Leadership at Millcreek Elementary were overwhelmed with the supplies we received. This generous donation will allow our children to have the supplies needed to be successful in the classroom. The books we received for the library brought diversity and new adventures for our students to dive in with each new read. The staff bags allowed teachers to have new supplies to use during online and in person learning. Our school family would like to thank you from the bottom of our hearts for the kindness we have been shown, and would like to let you know that you helped so many in such a trying time for all. Thank you again for this tremendous act of kindness and all the help it provided to our school.
---
Quantrell Subaru supports Reindeer Express - JoEllen W
For forty-four years, The Nest has held our Reindeer Express holiday event. This event assists families with children five years-of-age and younger who have received services from The Nest within the year. These families are provided with new toys, coats, hats, scarves, gloves, art supplies, and books which will be given to their children as gifts for the holiday season. Every family receives a food box, as well. This year, we had approximately 950 children in need of new gifts and winter wear. We were so fortunate to have Quantrell Subaru as our title sponsor. The coronavirus has made this year more challenging for people already experiencing hardship. We had to make adjustments in carrying out Reindeer Express to ensure the health and safety of everyone involved. The families participated in a "drive-thru" pick-up, where they received their gift bags while remaining in their car to maintain social distancing. The Nest is thankful for our partnership with Quantrell Subaru and grateful for their unwavering commitment to our community. Their generosity and support of Reindeer Express made a tremendous difference in so many lives. Quantrell Subaru put smiles on children's faces and helped families in need have a joyous, holiday season.
---