Subaru Electric Vehicles
We're excited to announce that the all-new 2023 Subaru Solterra™ is on its way to our Subaru dealer near Louisville. The Subaru Solterra is the first Subaru all-electric SUV and is packed with advanced features inside and out.
If you'd like to be among the first to take home this all-electric, all-wheel drive SUV on the 2023 Subaru Solterra release date, get in touch with our dealership, and we'll add your name to the notification list.
Until then, let's take a look at some of the exciting features and performance capabilities that this Subaru electric SUV offers.
Standard AWD Capability
Subaru vehicles are known for their rugged performance capabilities, and the all-new 2023 Subaru Solterra™ is no different. If you're comparing the new Subaru Solterra to other electric vehicles for sale, you'll be glad to know that this new Subaru EV comes standard with Symmetrical All-Wheel Drive for outstanding traction in a variety of weather and road conditions.
If you plan to take your 2023 Subaru Solterra EV through muddy trails or through a rainstorm, you'll have the optimal distribution of power to all four tires for maximum traction in harsh conditions.
2023 Subaru Solterra™ Range
When shopping for new electric vehicles for sale near Louisville, one of the biggest points of EV comparison is range. The all-new 2023 Subaru Solterra™ produces an EPA-estimated range of over 220 miles1 standard Symmetrical All Wheel Drive, thanks to the StarDrive powertrain.
After you take home your Subaru Solterra on the 2023 release date, you'll have two ways to charge this all-electric SUV. A Level 1 charger will be included with your purchase and will pair with any standard 120V outlet. All you need to do is plug in your vehicle before you go to bed, then wake up to a fully charged battery in the morning.
If you're looking for a faster way to charge your electric SUV, you can have a Level 2 system installed in your garage. Level 2 charging sends 240V to your vehicle's battery for faster charge times than Level 1. Get in touch with a member of the Quantrell Subaru sales team to learn more about electric vehicles and charging times.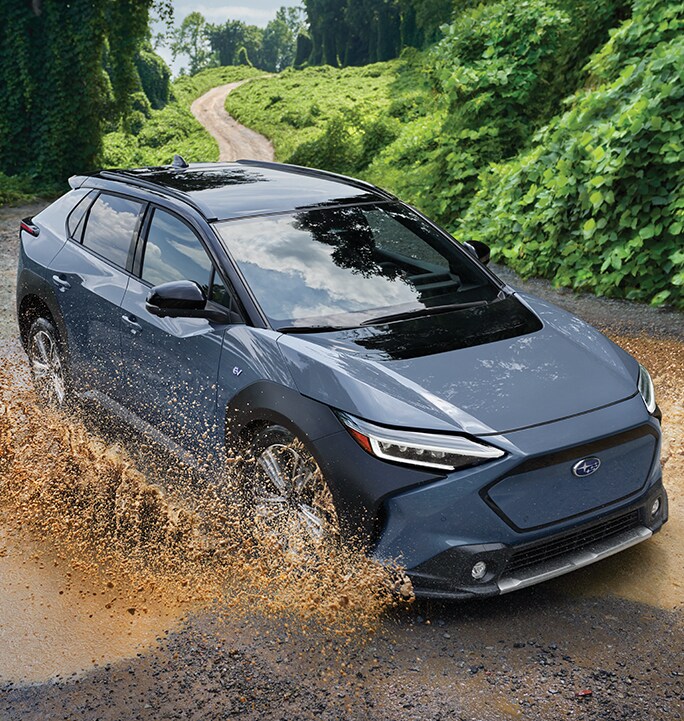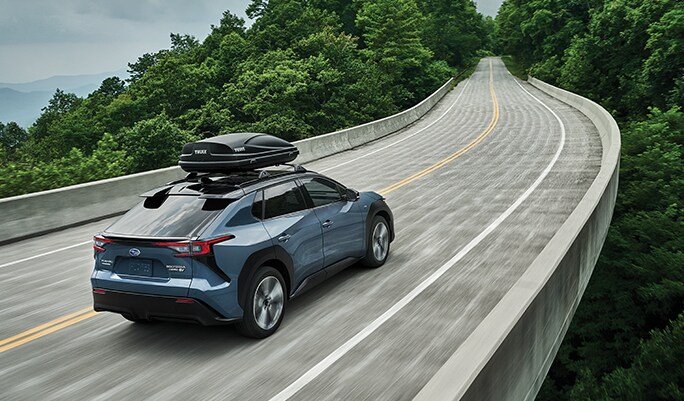 Interior & Cargo
When the Subaru Solterra™ release date arrives, it will join our exciting inventory of new Subaru for sale and you'll be able to slip behind the wheel to experience the 12.3-inch touchscreen, 126 cubic feet of passenger space, and high-quality materials for yourself. Until then, we can touch on a few of the interior highlights and features the first all-electric Subaru SUV provides you and your passengers.
If you're shopping for a Subaru model, you're shopping for a vehicle that can keep up with life's adventures. That often means bringing along bikes, coolers, and gear of odd shapes and sizes. Thankfully, the Subaru Solterra provides up to 30 cubic feet of cargo space and a 41-inch wide rear gate opening to make it easy to load in and out.
Reserve Your 2023 Subaru Solterra™
Now that you know more about this zero-emission, all-electric Subaru SUV arriving soon, you're probably eager to try out the one-pedal driving and paddle shifters. Here at Quantrell Subaru, we're just as excited for you to experience the extra-responsive Sport Mode, regenerative braking, and on-demand torque that makes this vehicle so special.
If you have any questions about the 2023 Subaru Solterra™ price, release date, or trim models, please get in touch with our dealership. We can tell you how to get vehicle updates and reserve your all-new Subaru Solterra.
Frequently Asked Questions:
What is the range of the Subaru Solterra™?
As of right now, no official specs concerning the range that the 2023 Subaru Solterra™ will offer have been released. That said, we can speculate based on trends and the manufacturer's goals for the vehicle. Specifically, we are fairly certain that the range that a Solterra offers will come in at approximately 250 miles on the lowest end and has strong potential to offer over 300 miles of range on the high end.
What is the Subaru Solterra™?
In a nutshell, the 2023 Subaru Solterra™ is the brand's first all-electric vehicle and a step toward building a new all-electric lineup. Diving deeper, the name is a combination of the Latin words "sol" (meaning sun) and "terra" (meaning earth). As well, under the sleek skin will be a new all-electric vehicle architecture known as the e-Subaru Global Platform to pave the way forward for future all-electric Subaru models. Overall, you can expect the 2023 Subaru Solterra™ to be a spacious and comfortable SUV with a focus on advanced tech and quiet electric power.
---
1EPA fuel economy estimates. Actual mileage will vary with driving conditions and your vehicle's condition.