Subaru WRX Pricing, Features, And Specs

The 2021 Subaru WRX STI is here in Lexington, KY, so get ready to say, "see ya" to your boring daily commutes. Hop in the driver's seat and learn everything you ever wanted to know about the history of this legendary vehicle. Where it came from, what its accomplishments are, and most importantly, where it's going with you behind the wheel. Check out our entire line of the barely legal new Subaru WRX for sale in Lexington, Kentucky, or keep scrolling to check out the unrivaled 2021 STI. No matter which way you go, your dream of owning a World Rally Blue Subaru is about to come true.
What's in a Name? Well, a lot, Actually. Your STI Subaru Explained
The enthusiasts will know. The newcomer to the model might be thinking, "Well, wait. Isn't it an Impreza? Are WRC and WRX the same? And what does STI have to do with any of it?" Don't be too hard on yourself. The next time you pull up to the line in your Subaru WRX STI, you'll be able to spit the lingo just like the veteran Subaru performance enthusiasts. Let's take a look at the birth of the Subaru WRX STI, as well as some key milestones in its career.
You remember the late '80s, right? Well, unless you're a millennial. But, there were plenty of Subaru WRX STI vehicles crushing it at that time, too. But back to the '80s. It was the rise of the Japanese import vehicle in this country. They were wildly popular. They allowed you to buy something that was "unique" without the hideous price tags of European cars. Thankfully, Subaru figured out that if it was going to dominate, it would need to make a bold statement about its technology, drivability, and dependability. And the rest is pretty much history. Check out some key Subaru WRX STI facts: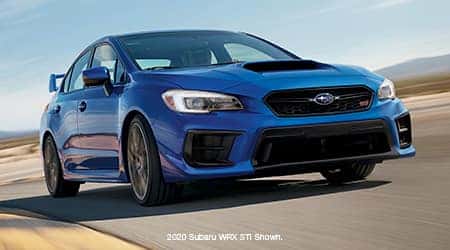 The Subaru Legacy SMASHES A World Speed Record – In a largely unsung competition, the Legacy 'Ru conquered 62,137 miles in a little less than 448 hours. For you human calculators out there, that's a non-stop average speed of 139MPH. That's crazy. And awesome.
1992 – The family tree of the Subaru Legacy splits, and the Subaru Impreza focuses on the sports-minded character of the lineup. The boxer engine is implemented. FWD and AWD variants were available, as was a special off-road package known as the "Outback Sport," and we all know what became of that model.
WRC vs. WRX – The World Rally Championship began in the early '70s as an international competition for sporty 4-cylinder cars. Manufacturers entered their production models known as World Rally Cars. Subaru took things to the next level with its own entry designation called the WRX (with the X being assigned to the word "experimental"). With competition heating up, Subaru bolsters its in-house race development program and labels it "STI," which stands for Subaru Tecnica International. The meanest 'Ru's out there have the STI designation on them.
Subaru Kicks Some Serious STI – Let's say it all together, "The Subaru won the WRC a mind-boggling 46 times."
You Buy A Subaru WRX STI – You don't finish this article. You run to Quantrell Subaru for one of our new Subaru specials and bring home the 47th WRC title. OBVIOUSLY.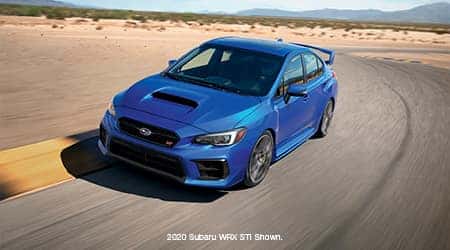 There is a vibrant history of racing behind our WRX STI tuned cars, and while your normal driver might not necessarily care, we know you do. This racing tradition lends itself to so many of the consecutive awards that we've enjoyed over the years, like being the brand that's got the lowest cost to own, #1 in consumer trust, and the best overall brand (all given by KBB, not some random dude in a bar). You don't get these awards by building cars as a result of measured statistics and offering nice donuts at focus groups. You get them in the arena. In the dirt. Across the deserts. Through the Alps. Barely squeezing through old-world gravel streets. Without any sleep. And maybe stopping for the bathroom. Maybe. The legend is for sale in Lexington, Kentucky.
We hear from enthusiasts all the time with a lot of great questions about the Subaru WRX STI, so we thought we'd put together some of the most popular ones to assist you with your research:
Why buy a Subaru WRX STI?
Ummm. Outside of the fact that they're just freaking awesome, you'll enjoy laser-precise steering, rally-ready suspension, and that killer exhaust note that screams from the quad-tipped exhaust valance at the back of the vehicle.
What does WRX STI mean?
World Rally eXperimental division powered by Subaru Tecnica International. If you put these two badges together, you've got a street-legal, rally-ready machine that will take you anywhere you want to go, whether you live near Louisville, Bowling Green, or beyond.
Does WRX STI hold value?
Ummm yeah! According to Edmunds, the 2021 WRX and the 2021 WRX STI are the best sports cars to own with regards to value retention. Additionally, AIG has cited Subaru as the brand to own for value retention for five years in a row.
Which year WRX STI is the best?
That's a loaded question. Are you the collector that wants one of the 1st 'Ru's entered in the WRC competition, or do you like the idea of a brand new warranty with yours? That said, our friends at Hagerty have tallied up some data that seems to point at the popular 2006 Subaru WRX, otherwise known as the "Hawkeye" year. This model had a 2.5L turbocharged 4-cylinder that gave drivers 300HP. Yeah, it might be a used Subaru WRX STI, but this blast from the past can give anything out there a run for the money.
Can you get an STI in automatic?
Yes, and no. There was an exclusive early run of a new WRX S4 STI Sport with a CVT automatic, and it's already sold out. While OEM data suggests that their customers prefer the 6-speed, Subaru seemed deliberately vague on the forthcoming availability of another automatic. Stay tuned.
How fast does a WRX STI go?
According to the factory, the Subaru WRX will get you to 155MPH, and the Subaru WRX STI will get you to 174MPH. Of course, we recommend obeying all posted speed limits and checking in with local auto-cross chapters for driver education and equipment testing.
How much HP can a stock STI handle?
The better answer to that question is how much horsepower can you handle? The factory has the stock STI rated to 310HP. There are examples out there with considerably more power than that, but those models are anything from stock. As you modify your STI, you will want to keep upgrading to the meanest running-gear and suspension you can find. But of course, that's no longer a stock scenario, and you've entered the world of racing where the only real question that matters is, "How fast do you want to go, and how much do you have to spend?" Well, I guess that's two questions.
The Checkered Flag Is at Quantrell Subaru
The team at Quantrell Subaru has an incredible selection of 2021 Subaru WRX STI models on hand for you to choose from. Whether you're going to test one out at Rush Off-Road just east of Lexington or are planning to race your own thoroughbred along the Old Frankfort Pike, our expert team will help you turn every day into an adventure. We are your Subaru WRX dealer in Lexington, so be sure to give us a call, drop us an email, or come on by to get your best driving experience started. So actually, let's forget about the checkered flag. Let's talk about the green flag at the start of your next race, which drops in 3… 2…