2022 Subaru BRZ® Release Date: Specs, Pricing, Interior
The next generation of lightweight agility is right around the corner; the 2022 Subaru BRZ® release date is almost here. You're the type of driver who prioritizes a tangible connection with the road, and you'll find that this new Subaru BRZ is a sports car that does much the same. All that made the previous generation a stand-out thrill ride has evolved to offer you even more tail-happy fun.
New looks, new agility, new power, new features, and even more new and improved excitement is yours to discover. The new Subaru BRZ® rises above the crowd, offering you uncompromising track-tested agility and an outstanding connection between driver and machine. It's coming soon, and when it does, we're the premier Subaru dealer in Kentucky to find it with.
---
The Corner-Carving 2022 Subaru BRZ® Specs
The 2022 Subaru BRZ® horsepower provides ample acceleration, but the real magic is in holding that speed through challenging racetrack corners. The power, though, has been raised for 2022. With a new 2.4-liter 4-cylinder SUBARU BOXER® engine laying down 228-hp through a rear-wheel-drive layout, the torque also sees a 15% increase over previous models; now 184 lb-ft.
Magic isn't a simple act, and that engine plays a part. Namely, it's mounted down low and farther back than competing sports cars, giving not only precise power delivery but an added boost of agility. Yet, with a retuned suspension tested for countless hours on the track, the cornering abilities defy belief. That's also thanks to the sharper steering response, newly upgraded performance tires, wheels, and brakes, along with a standard short-throw six-speed manual transmission.
But even better than the 2022 Subaru BRZ® 0 to 60 mph time seeing approximately 1.1 seconds of improvement, torsional rigidity has been improved by 50%. With a lighter weight and lower center of gravity to boot, the new Subaru BRZ® connects you directly with the road and responds to your commands in an instant.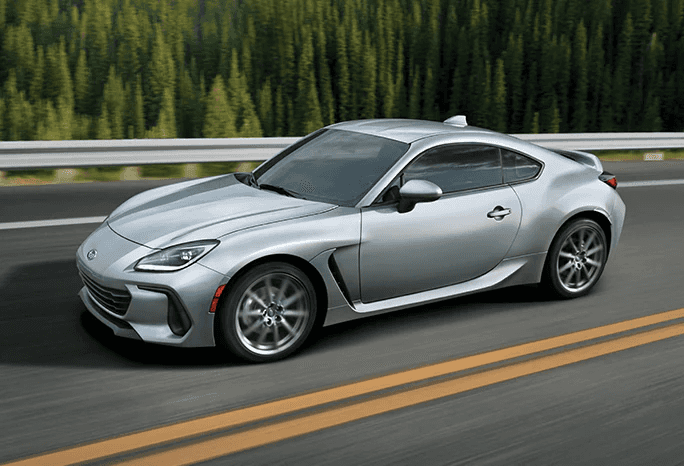 ---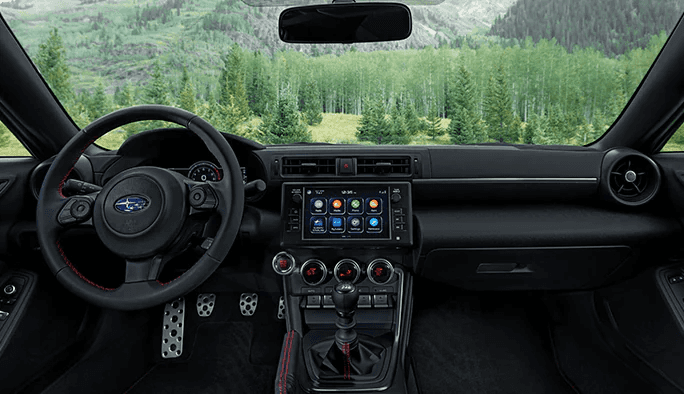 The Cutting-Edge 2022 Subaru BRZ® Interior Features
Like the 2022 Subaru WRX®, the 2022 Subaru BRZ® features new tech all around. A fully digital instrument panel comes standard, with dynamic layouts like track mode for all your performance metrics. An upgraded 8-inch touch-screen infotainment system also comes standard, with Apple CarPlay® and Android Auto™ integration to keep you connected on the way to and from track days.
A car that prioritizes fun needs impressive safety features to let you enjoy it all in confidence, and you'll find exactly that in every new or used Subaru BRZ® for sale. 2022 is no exception, and it's better than ever thanks to standard SUBARU STARLINK® Safety and Security on Limited-trim models, along with standard EyeSight® Driver Assist Technology on models equipped with an automatic transmission.
With surprising practicality from standard features like fold-down rear seats, the 2022 Subaru BRZ® doesn't just love fun; it loves every moment on the road.
---
When Is the 2022 Subaru BRZ® Release Date?
The 2022 Subaru BRZ® release date takes place in two parts. The first, its debut, took place in the fall of 2021. We've received a taste of everything it offers, and now the second half is on the horizon. This is its arrival at dealerships like ours, and estimates vary as of our writing.
Get Ready for the 2022 Subaru BRZ® Release Date at Quantrell Subaru
The 2022 Subaru BRZ® Premium and Limited trims are now in production, and while arrivals may vary, our commitment to drivers like you does not. That commitment includes making car shopping easy and an exceptional customer-first experience. While we can't let you skip the line, we can reserve your spot so that you'll be among the first to take home this new sports car. Reserve your 2022 Subaru BRZ® today, and stop by Quantrell Subaru for all your Subaru vehicle needs.
Frequently Asked Questions
Where will the 2022 Subaru BRZ® be made?
The 2022 Subaru BRZ® release date saw this new sports car revealed in the fall of 2021, and production has begun. In particular, it sticks to its Japanese roots and is made in Gunma, Japan. It's not built alone, as the Subaru Gunma Plant produces the 2022 Subaru BRZ® and the 2022 Toyota GR86. From there, they're shipped overseas for stateside sales.
Is the 2022 Subaru BRZ® all-wheel drive?
No, the 2022 Subaru BRZ® is not all-wheel drive. But, this lack of all-wheel drive is for an excellent reason. While other Subaru models use the iconic symmetrical all-wheel-drive system for uncompromising go-anywhere adventuring capabilities, the Subaru BRZ® defines "adventure" as corner-carving fun. In this sports-car application, rear-wheel drive gives a higher level of ability and enjoyment, and that's why the Subaru BRZ® only comes in rear-wheel-drive form, no matter if it's a 2022 Subaru BRZ® Limited or Premium.
Does the 2022 Subaru BRZ® have rev matching?
Yes, and the 2022 Subaru BRZ® release date has confirmed it. That said, rev-matching is a standard feature on models equipped with the 6-speed automatic transmission for maximum control during performance driving.
---