Leasing Vs. Buying A New Subaru: Which Is Right For Me?

You may have briefly given some thought to leasing vs. buying in the past, but without more knowledge of the leasing process, the thought might have slipped away. After all, most people buy their cars. However, for some out there, leasing can open up entirely new roads that suit their lifestyle better. To see where you might fall in this spectrum, read on.
Leasing vs. Buying 101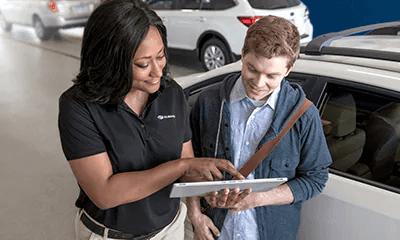 If there is a particular new car that's caught your eye in stock at our Subaru dealer in Lexington, our team is more than happy to give you the rundown of its features and let you get behind the wheel for a test drive. Suppose you love the way it handles, and the vehicle is every bit as great as your research led you to believe. Based on the time you spend with it on the roads near our lot, it can still be hard to know if this is the car you want to drive for the next decade.
When leasing a Subaru vehicle, you don't have to make such a long-term decision. Instead, you can reach a deal with our sales advisers to drive the car, hatchback, or SUV for a set period – usually 36 months. Instead of a financing fee, you'll pay a typically less-expensive leasing fee. This will give you the chance to immerse yourself in all of the new technology and comforts of a new vehicle but also leaves you more open to change.
You can eagerly jump from a 2023 model car to a 2025 model 36 months from now and explore what upgrades have been made in the meantime. Alternatively, if you decide that you want an AWD vehicle instead or your expanding family suddenly needs an SUV, you have more flexibility to do that, too.
Leasing vs. buying also often comes with fewer maintenance responsibilities since you will be driving a new car and giving it back before it sees too much wear and tear. In the case of Subaru lease-to-own agreements, you might also lease a product to see how well you like it over time – an extended test drive, if you will – and then purchase it once the lease term ends.
What Are the Benefits of Buying a New Subaru?
Of course, purchasing your own car has many advantages as well. Your monthly payments help build equity in the vehicle. There are also fewer restrictions. Often, lease agreements have stipulations limiting how many miles per year the car can be driven and comes with overage fees for going over. Therefore, if you love going on long summer road trips with the family, this option might not be right for you. There's also the freedom in the car being yours and being able to modify it as you deem fit.
If you decide that you want a change of pace after several years with your vehicle, it's not like you are locked in either. For example, our dealership accepts trade-ins, making the process hassle-free.

Should I Lease or Buy a Vehicle?
No one can answer the question "should I lease or buy?" but you. However, our team in Lexington can make the decision easier by talking you through our Subaru lease deals and terms or explaining the perks of purchasing a new Subaru for sale. We can provide insight into the experiences of others who have bought or leased and draw up quotes for both options so you can see how each would affect your wallet. In general, the route you take is completely up to you. We just want to help you on the journey.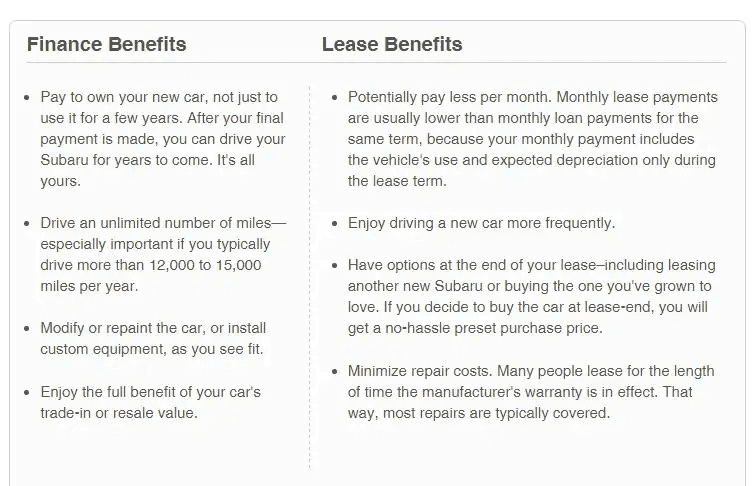 ---
Subaru Vehicles Lease Deals In Lexington, KY
---