2022 Subaru WRX STI Release Date, Info, Specs

Will the 2022 Subaru WRX STI give you the driving skills of Colin McRae? Absolutely not. Is it an exhilarating new release? Very much so. Ever since this World Rally Championship–dominating machine debuted in 1990s Japan, the world has looked to the WRX STI as a pinnacle of rally-bred turbocharged import performance. But that's a crowded scene with many competitors, some of whom couldn't survive in the market. How the WRX STI made such a long-lasting impression is a method that has faithfully been continued up to today.
Step 1: Take the nimble all-wheel-drive Impreza and make it more agile with handling enhancements all around. Step 2: Add a specially developed turbocharged SUBARU BOXER® engine for serious power. Step 3: Re-work almost every performance-based component for rally optimization. Step 4: Change up the interior with performance-oriented touches. Step 5: Hand the keys over to a talented Scotsman and watch as he dominates countless rallies on the WRC circuit.
While the WRC part is sadly missing a certain someone, this continues to be the core philosophy of the WRX STI – albeit taking a different shape today. No longer is it a hardcore Impreza-derived tuner-favorite like the arguably classic 2004 Subaru Impreza WRX STI, but instead, it has a unique body to differentiate it, with refinements all around to make it a lot nicer of an experience. The WRX and WRX STI we currently know and love were introduced for 2015, saw a refresh for 2018, and now are poised to be replaced when the 2022 Subaru WRX STI arrives. Many details have yet to be confirmed, but seemingly accurate speculations abound. So read on; we're gonna take you through all that we know about the next-gen rally champ.
2022 Subaru WRX STI Redesign
---
No 2022 Subaru WRX spy shots have come to light yet. That said, we have two ways of speculating the new, supremely sleek shape it'll take. Firstly, look to the 2017 VIZIV Performance Concept for cues on styling. Those are some seriously cool looks, but a concept is just a concept; it doesn't have to follow all the laws and regulations demanded of a production car. One production car we can look at for clues is, sadly, an awesome one that we don't get here in America: the Levorg.
The Levorg is a proper wagon that shares a lot in common with the current WRX and STI, and its specific specs are, in a sense, the new Subaru WRX STI hatchback we missed out on. But, back to our main point, the 2022 Levorg has been officially revealed, and it happens to look a lot like the VIZIV Performance Concept. Since prior model-years of the Levorg shared almost all the looks of their WRX and WRX STI brethren, it's a safe bet to assume the same will happen with the 2022 Subaru WRX and WRX STI.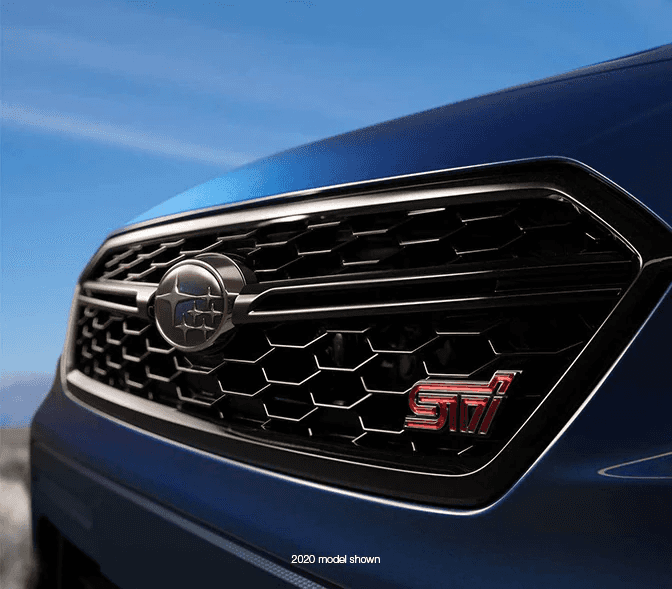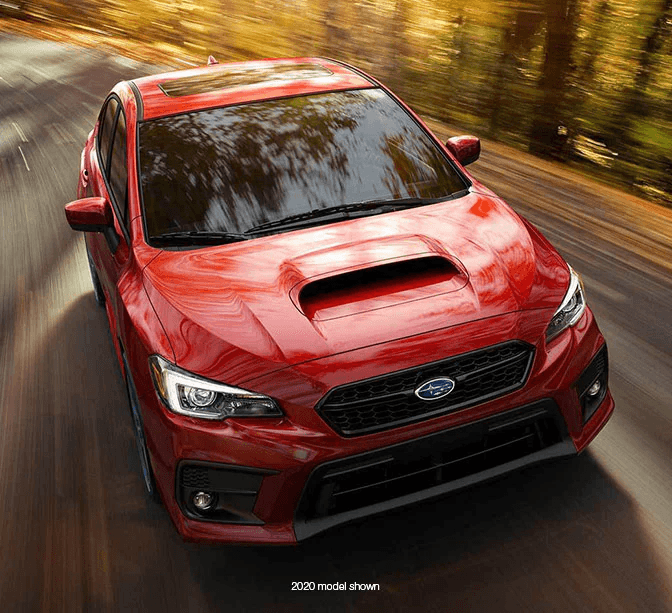 2022 Subaru WRX STI Power and Performance
---
Another bit of speculation for the new Subaru WRX STI: a Forbes report claims that the 2022 model will produce 400 horsepower. Take that with a grain of salt. What is most likely to happen, though, is that a variant of the FA24 turbocharged SUBARU BOXER® engine will act as the beating heart of the 2022 Subaru WRX STI. With that engine in models like the Ascent, you get 260 horsepower. But, the WRX STI formula has been that of taking existing engines to the extreme, so perhaps that awesome 400 horsepower estimate will ring true. Only time will tell.
One more anticipated change is a switch to the Subaru Global Platform. Going back to its roots, the WRX STI has been a unique model from the Impreza since 2015. Returning to a shared platform with the Impreza is no bad thing at all, as the platform will provide the 2022 Subaru WRX STI with a lower center of gravity. Add on the expected WRX STI handling enhancements like new suspension, and you've got a snappy backroad blaster on your hands.
2022 Subaru WRX STI Interior
---
At the time of our writing this, we don't have any solid predictions and speculations for what the interior of the 2022 Subaru STI will look like. We can only assume the formula we're familiar with will be carried out, though – namely, bolstered sport seats, performance gauges, a tight racing-inspired steering wheel, and all the awesome STI branding. One other interior component we're seriously hopeful makes it through to the 2022 Subaru WRX STI is the delightfully crisp six-speed manual transmission that current models use.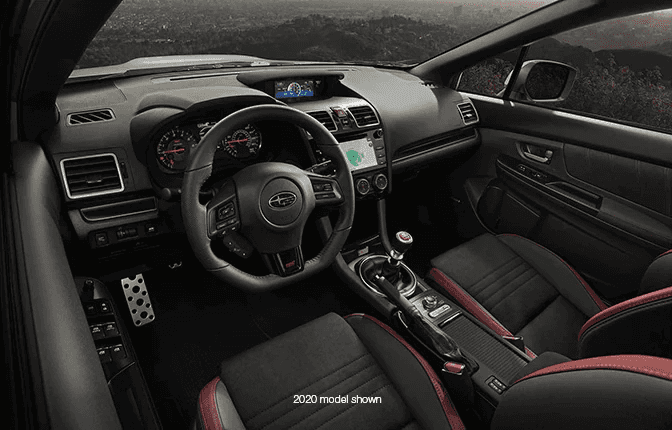 Our Dealership in Lexington Is Eagerly Anticipating the 2022 Subaru WRX STI Release Date
Like actual horsepower output, we can only guess the specific date that the 2022 Subaru WRX STI will be released on. Some say the fall of 2021 will see it fully debut, while some also say the first couple months of 2022 are when it will arrive in dealerships. Either way, we'll be the Subaru dealer near Louisville to find one at. We can't wait for this next-gen rally machine, and we'll be as thrilled to give you an in-depth, in-person tour as we will be to take the wheel of one for the first time — stay tuned!
Frequently Asked Questions:
How much will the 2022 Subaru WRX STI cost?
We don't know for certain as of this moment. That said, we can make some predictions for the price of the 2022 Subaru WRX STI using the current 2021 model's pricing. Solely as an estimate, we expect that the 2022 Subaru WRX will hit the market with a price of around $30,000. We also expect the 2022 WRX STI to parallel the price gap between the current WRX and WRX STI, and most likely go on sale with a price of around or over $40,000.
What motor will the Subaru STI use in 2022?
Like every single model that preceded it, the 2022 WRX and WRX STI will almost certainly use a specially developed turbocharged SUBARU BOXER® engine. According to a report, this engine, in particular, will be the FA24, an engine shared with the Ascent and other models. But, that report also claimed an output of 400 horsepower, while others claim it will pump out around 286 horsepower. Only time will tell for sure.
When will the Subaru WRX STI be released?
Currently, no official date for the release has been put forward and confirmed. That said, we can speculate that by the fall of 2021, it'll see a full debut with all the details revealed. As for when you can buy one, we also don't know, but we have an estimate of early 2022 for when it'll arrive at dealerships like ours.
---